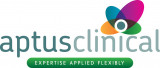 Aptus Clinical Ltd
Aptus Clinical is a specialist UK- based oncology clinical research organisation which helps life science companies to optimise their clinical development strategies and effectively transform promising molecules into valued medicines.
What makes Aptus Clinical different is our flexibility – our clients benefit from our network of highly experienced and skilled experts from all technical disciplines, but only pay for what they need, when they need it. Our scientists have global expertise in all aspects of drug development so no challenge is too great, and being highly professional, they integrate seamlessly into a client organisation. This gives our clients all the benefits of an in-house clinical department, but at 
a significantly lower cost. In addition, our well-established relationships with some of the world's leading experimental cancer centres, access to large patient populations and flexible arrangements to support optimal project delivery are just a few of the benefits to be gained from working with Aptus Clinical.